In June, 2019, health professional members of both chapters released a detailed research report on the risks to human health and safety posed by fracked gas infrastructure. The 147-page report uses academic studies, public documents, and data from state agencies to clarify the health and safety risks posed by major fracked gas projects. It focuses on projects proposed for the Pacific Northwest, including the Kalama methanol refinery, the liquified natural gas (LNG) facility in Tacoma, and the LNG project proposed for Jordan Cove, OR. WPSR Climate & Health Task Force member and paper co-author Dr. Rejean Idzerda, a pharmacologist and former University of Washington School of Medicine faculty, presented the paper with WPSR President Dr. Mark Vossler to Governor Inslee's staff before its public release.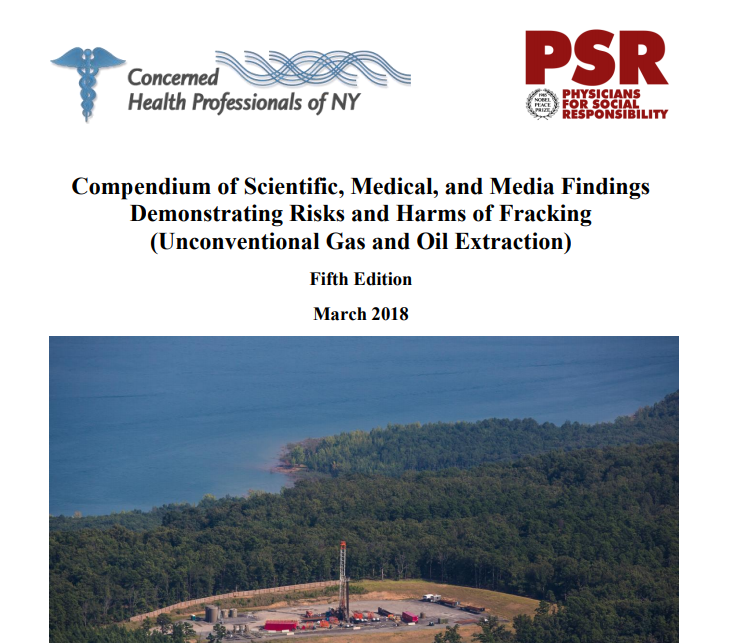 Fracked Gas: Too Dirty, Too Dangerous
In March of 2018, Physicians for Social Responsibility (PSR) and Concerned Health Professionals of New York released a compendium of Scientific, Medical, and Media Findings Demonstrating Risks and Harms of Fracking (Unconventional Gas and Oil Extraction). It complements this report released by PSR in 2017: Too Dirty, Too Dangerous: Why Health Professionals Reject Natural Gas.
Liquefied Natural Gas on the Tacoma Tideflats?
Puget Sound Energy is currently building a liquefied natural gas (LNG) facility in Tacoma despite lacking a final permit from the Puget Sound Clean Air Agency. An estimated 87 million gallons of LNG would be produced at the facility per year. The significant majority would be used as a fuel source for marine vessels, while a smaller percentage would be a diesel fuel replacement and distribution for utility customers.
While proponents argue that the facility will reduce greenhouse gas emissions from dirtier fossil fuel sources (like so-called bunker fuel), research from Sightline Institute show that the total emissions from the facility would have a far worse climate impact than Puget Sound Energy and the Port and City of Tacoma predict.
A growing number of individuals and community groups are opposed to the project. The Puyallup Tribe is strongly opposing the project, which is currently being built adjacent to tribal land. The facility also raises serious safety concerns. In 2014, an explosion at a similar facility in Plymouth, Washington, forced hundreds to evacuate their homes and injured five workers.
In April, 2018, the Puget Sound Clean Air Agency announced that a supplemental Environmental Impact Statement analyzing greenhouse gas emissions for the project would be completed by October. Construction continues, despite calls from Washington tribes to halt the project.
In June, members of WPSR's Climate & Health Task Force and providers in Puyallup and Tacoma sent a letter to Governor Inslee in solidarity with the Puyallup Tribe urging him to take action against this facility's construction. WPSR is also working with nurses and physicians in 350 Tacoma to grow the movement of climate-concerned health professionals in Pierce County.
The World's Largest Methanol Refinery: Proposed on the Columbia River
Northwest Innovation Works, a corporation controlled by the Chinese government, is currently seeking to build a methanol refinery at the Port of Kalama in Southwest Washington. After taking advantage of Washington's cheap fracked gas, electricity, and water for production, the methanol would be shipped to China to make plastics. Recent research by the Sightline Institute suggests that the methanol produced would likely also be used as a fuel for vehicles there - resulting in even more pollution and emissions.
A recent Stockholm Environmental Institute report found that the emissions caused by extracting, transporting, and processing fracked gas from Canada to the Kalama Methanol Refinery would result in 3.7 - 7 million metric tons of CO2 pollution annually. These emissions push us further from Washington State's goals for greenhouse gas reductions and make concerning contributions to global greenhouse gas emissions. It would also create five times more diesel particulate pollution than state guidelines for air toxics, along with emitting other hazardous pollutants including ammonia, carbon monoxide, and nitrogen dioxide.
This massive proposal - slated to be the largest in the world - would profoundly increase our region's consumption of fracked gas and drive the construction of new gas pipelines through the Pacific Northwest. You can learn more about this project by reading the independent Sightline Institute report: Kalama's Methanol Refinery, by the Numbers.